Now that I've been able to peek at my February Glam Bag, it's time to write this review. I'm going to start comparing the value of the Glam Bag with that of the items you can buy retail, so that we can all see if it is really worth it. All prices and costs are before taxes as sales tax varies location to location and the Glam Bag is only taxed in some states (TX is one of them).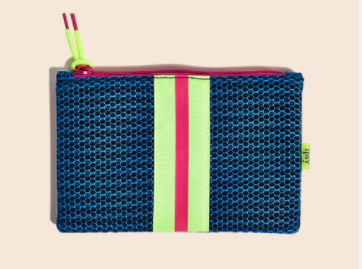 The design of the January bag was inspired by workout clothes and shoes. Its outside is made of mesh and had a shoelace and aglet zipper pull. In it I got a REAL CHEMISTRY Fresh-Start Foaming Cleanser, bellapierre Cosmetics StayPut Brow Gel in Licorice, SO SUSAN Liquid Matte in Raisin Flesh, TRUST FUND BEAUTY Lip Scrub, and the Balm Cosmetics Mary-Lou Manizer.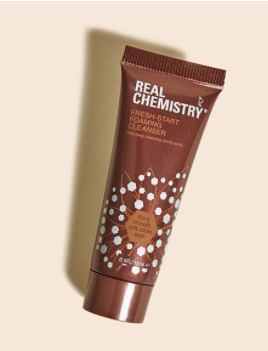 REAL CHEMISTRY Fresh-Start Foaming Cleanser
I love exfoliators but they're not great for every day use because they can be abrasive and dry out your skin. Cleansers are better for daily use but they aren't as fun. They are easier to use outside of the shower however, which is really how you're supposed to wash your face anyway. This is the way I use this cleanser- at the sink. It is a creamy formula, foamed up easily with water and some massaging, and came off easily with a damp washcloth. After removing it, my skin felt soft and smooth and was not super dry. It looked whiter than usual, but I think that it was due to a) the fact that I wasn't wearing makeup, and b) my cheeks are usually pink and somehow, this must have neutralized that, at least at the time.
Received: 15 ml | On sale: 4.2 oz for $24 at Ulta | Approx. value: $2.86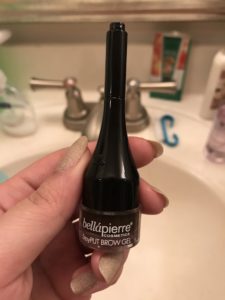 bellapierre Cosmetics StayPut Brow Gel in Licorice
I have a pretty clear opinion on this. Eyebrows are important. Look at photos of 90's fashion or celebrities without eyebrows and you will understand. With that in mind, mine are a tad wonky, but eyebrows are sisters, not twins. They still need to be full and fabulous however, so I do what I can to ensure that that is true. This entails using pencils, pomades, and gels to fill in my brows. This product looks a lot like the Benefit ka-BROW pomade, something I am familiar with from work and that many make-up instagrammers swear by. I was excited for it because the ka-BROW is $24 and this was part of a (roughly) $10 subscription box and I'm on a budget. It was not exactly like the ka-BROW.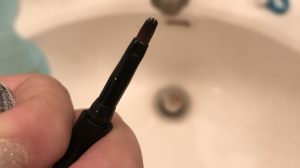 The main difference that I could tell was the brush. Usually you'd do your eyebrows with an angled brush which is what comes in the ka-BROW. This came with something closer to a lip brush. I tried to use it but it didn't pick up the pomade or distribute it as well as an angled brush would. When I used my angled brush in it, it worked like a charm so the pomade itself is great. It's disappointing that I can't just carry this to do my brows however, and have to also bring another brush along as well.
Received: 2.2 g | On sale: 2.2 g for $25 at bellapierre.com | Approx. value: $25
SO SUSAN Liquid Matte in Raisin Flesh
I was so ready to be unimpressed by this liquid lipstick. I've been through liquid lip after liquid lip and loved the colors but absolutely hated the formulas because they didn't go on well or didn't stay very long. I was pleasantly surprised by this one because I loved the color (like usual), it went on easily, and it stayed on all day. Even at work where I do a lot of talking, and through drinking and eating, this liquid lipstick stayed on my lips. The main issue I have with it is that it started out super sticky. It wasn't sticky like a sticky lip gloss, it was almost like there's glue in it that literally makes your lips stick together. As it dried it got less sticky but it never fully went away. Still, with the longwear formula, I can put up with the stickiness.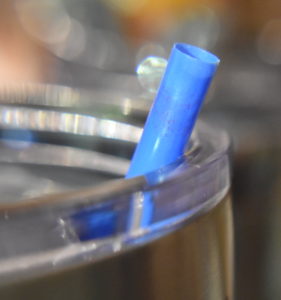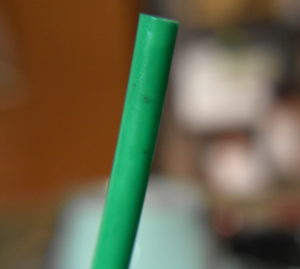 On both of the straws I used while wearing it, there was minor transfer. It was so minor that I had to use my DSLR and macro lens to even start to see it in photos.
Received: 5 ml | On sale: 5 ml for $14 on sosusan.com | Approx. value: $14
TRUST FUND BEAUTY Lip Scrub
Just like a like exfoliating facial cleansers, I love basically any kind of scrub. Lip scrubs can be particularly fun because they usually taste good. When I saw that this was in my bag, I was super excited. My lips get super dried out and peely because I don't drink enough water. Water and proper hydration are the best moisturizers. With this scrub, I was able to exfoliate my lips and make them super soft and get rid of a lot of the peely dead skin on them. After I used this, I applied my IT Cosmetics lip treatment and had pillowy and kissable lips the rest of the night and into the morning. The only think I'm not a fan of with this is how small the tube is. With one use it felt like I was already running out, something I thought was just because it was a sample size but when I found out this was the full size, it seemed like a bit of a rip.
Received: 8 ml | On sale: 8 ml for $8 on trustfundbeauty.com | Approx. value: $8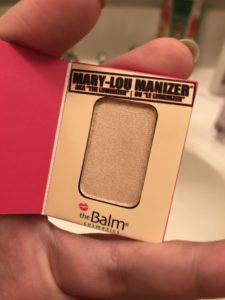 the Balm Cosmetics Mary-Lou Manizer
I'm not a huge fan of highlighters. When other people use them I always admire their work but I never feel like my highlight comes out as well as their's so I tend to just not try. Whenever I get a new one, I have to try it though. One of the problems I have with highlighters is that I'm a lot lighter-skinned than I think I am so I have to use really light highlighters to get any results. This one looked like enough for me to get that blinding cheekbones look but it wasn't. The color was still super pretty and I think I might be able to use it as an eyeshadow, but it just did not do what I needed it to.
Received: 1 g | On sale: 8.5 g for $24 on thebalm.com | Approx. value: $2.82
Approx. overall Glam Bag value: $52.68 | Current Glam Bag price: $10 | Approx. savings: $42.68, 81%