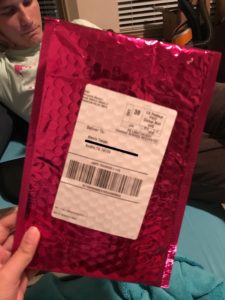 For the past 17 months, around the middle of the month an email has come to my inbox and within about a week from that day this package has come to my mailbox. This is the packaging that ipsy sends their GlamBags in. It's super pink, super shiny, and super squishy. They bring a smile to my face.
This month's theme is Over Easy and features Gudetama who is an adorable little lazy egg character that I connect to so hard. The bag has an image of him on it and it is shimmery. In the bag, I got a COUGAR Beauty Cosmetics 24-Hour Liquid Lipstick in Mulberry, Ciate London Wonderwand Gel-Kohl Hybrid Liner in Black, OFRA Cosmetics Gold Rush Eyeshadow, Hempz Ultra Moisturizing Herbal Lip Balm, and two TONYMOLY I'm Real Sheet Masks in Green Tea and Lotus. Along with all of those fabulous products, I had also redeemed points for a Her Minerals Professional Blending Sponge.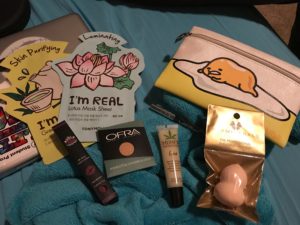 I don't know how much I'm going to use the eyeshadow or eyeliner, but I will return with updates and reviews as I try them. Even if I don't continue using the products after I initially try them, I always try them at least once to review them. That's how you get points!
On a completely unrelated note, Luke and I went to Target today on a mission. In the time that he was "living with me" in Tampa, every time we went to Target, we looked at a cookie jar. It was a grey cookie jar shaped as a little hippo. It was $20 and every single time I basically begged Luke to let me buy it but since we were in Tampa and knew we'd be moving to Austin, he always said no because it was another thing we'd have to move. Well, today, I would like to introduce you to Puds, the newest addition to our little family.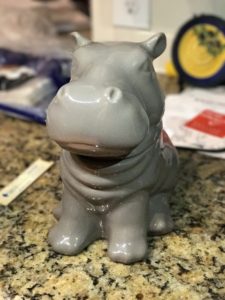 Yes, having a cookie jar means we will be baking cookies. Yes, I will post photos of him filled with cookies. For now, here he is in all of his cute glory. I love him.