Meatless Monday is fun.
It's pretty much the only day of the week that we try new recipes (and actually take the time to make recipes from scratch) because we kind of have to. To be fair, when I say "from scratch," we're not out here growing potatoes ourselves, though I did try to do that and am determined to do so again.
The last two Mondays that were of note, I made mapo tofu and black bean burgers "from scratch."
Usually, mapo tofu is made with soft tofu and pork. It's a spicy Chinese dish that is served over white rice and that I have loved since I was young. Whenever my mom made it, she used a pre-made sauce and while delicious, the first time I wanted to make this on my own, I couldn't find any sauce packages! So I found a recipe and made it "from scratch."
On this particular Monday, I found a different recipe than the one I used before because I needed it to be vegetarian and didn't know what to use as a substitute for the pork. Turns out, shiitake mushrooms sub in pretty well. The recipe is at the bottom of the post. Here's the finished product: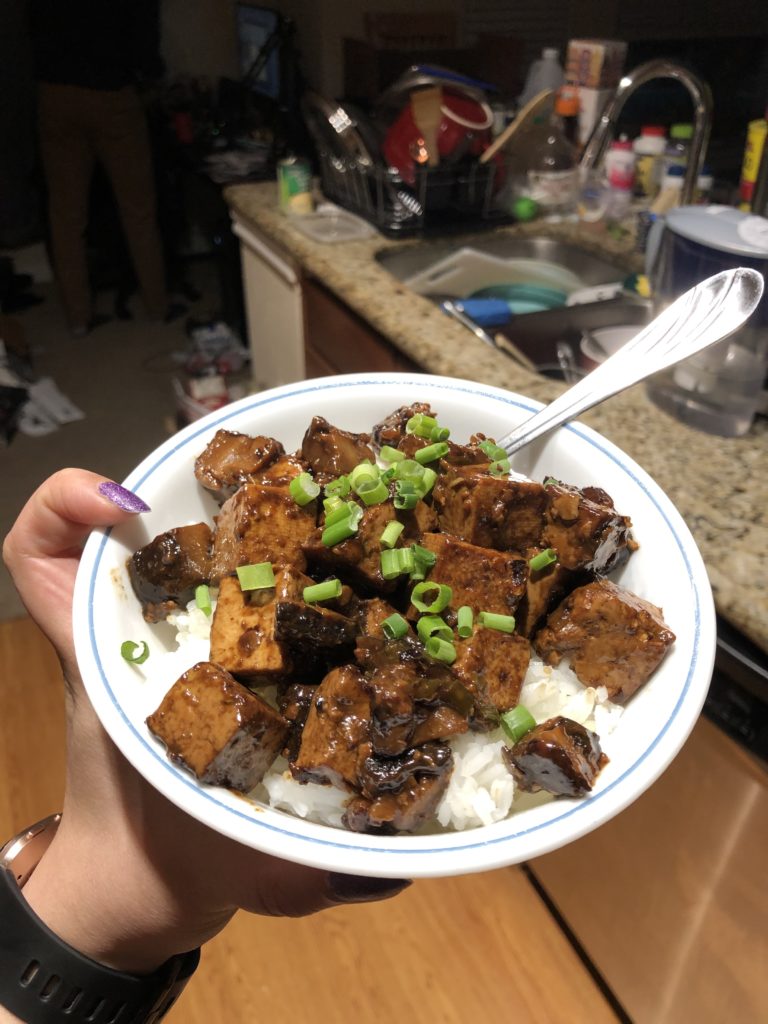 The main differences in this from regular mapo tofu are that a) I used firm tofu because Luke isn't a fan of the soft stuff, b) it has shiitakes instead of pork, and c) the black bean sauce I used must have been VERY dark because usually mapo tofu is red. I also must have used too much cornstarch slurry because it wasn't very soupy/saucy even after I added vegetable broth, something that wasn't in this recipe but I recalled from the old recipe. Regardless of all of these points, it was very delicious and I got Luke to eat tofu.
Tonight, I attempted black bean burgers "from scratch." They came out interestingly. The recipe is below. My biggest deviation from the recipe was that instead of using breadcrumbs or oat flour, I used soft tofu. No, soft tofu does not do the same thing that breadcrumbs do at all. Breadcrumbs are dry and help absorb some moisture; soft tofu that has not properly had its moisture removed (and even tofu that does) will add moisture. Because of this, the burgers were more mushy than they should have been but still really tasty. I also added way more of the spices in the recipe because with only as much as the recipe called for (or what I estimated), it just didn't taste like enough. Also also, I didn't add feta or bell pepper because we just didn't have any and I think it could have done without the Worcestershire. Here's before and after cooking/assembling: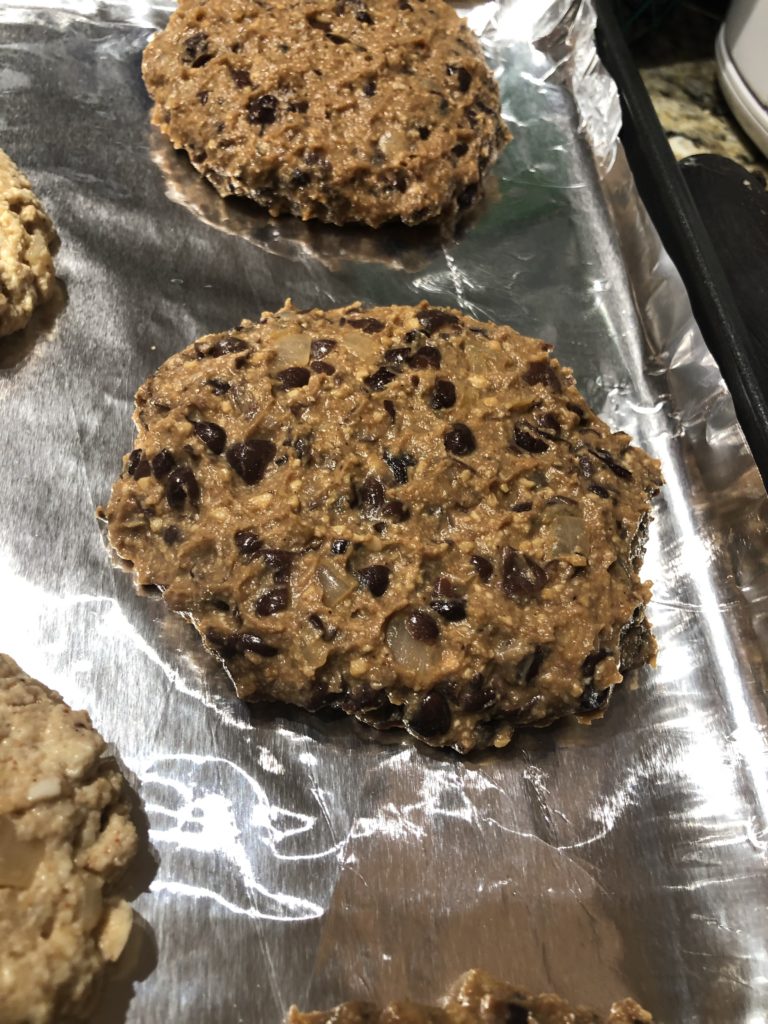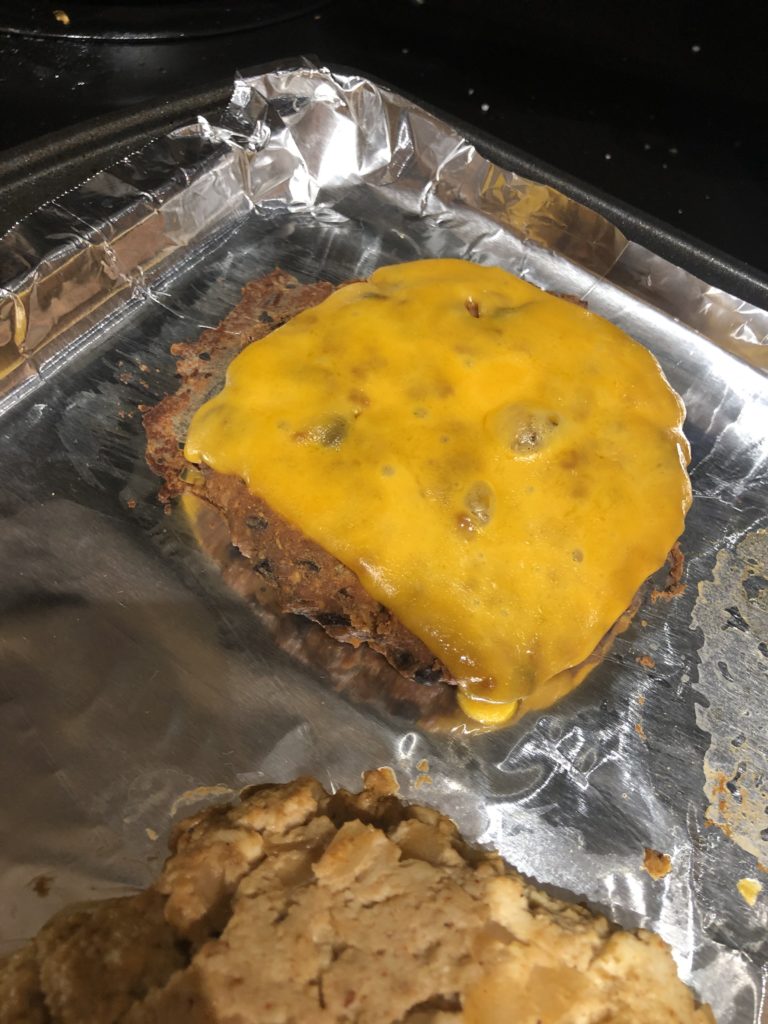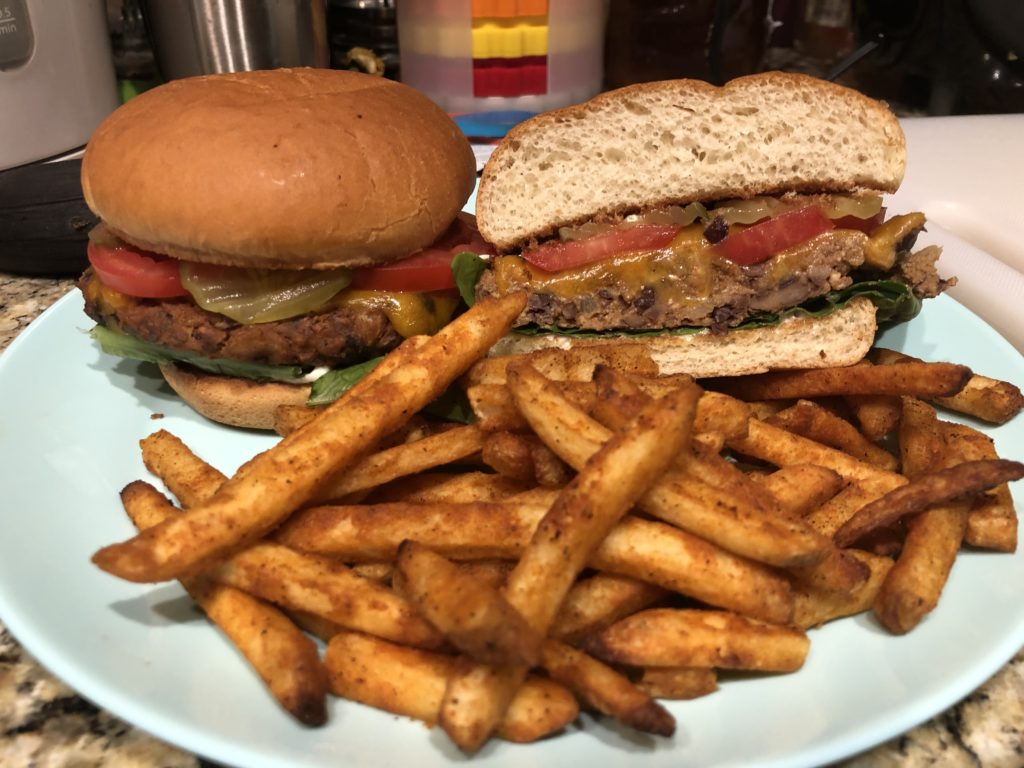 Now, if you're actually really reading through this and looking at the photos, you might be asking what that scrambled egg/cauliflower looking thing is peeking in the photos above and I'll tell you! It was my failed attempt at tofu burgers. Since I only used a small amount of the package of tofu, I decided to try to get creative and use the rest of it to make tofu burgers! I consulted the internet a small amount just to make sure that tofu burgers were a thing that could be done and after verifying this, I mostly just made the black bean burgers again, but going through it all the way I felt it should have been done.
I removed a lot of the moisture from the tofu (it wasn't enough). I mushed it and added all of the spices and onion and garlic, minus the Worcestershire, mayo, and ketchup. I also only put in half a beaten egg because I was sure one whole egg would be too much. Then, just like the black bean burgers, I shaped them and slapped them onto the cookie sheet.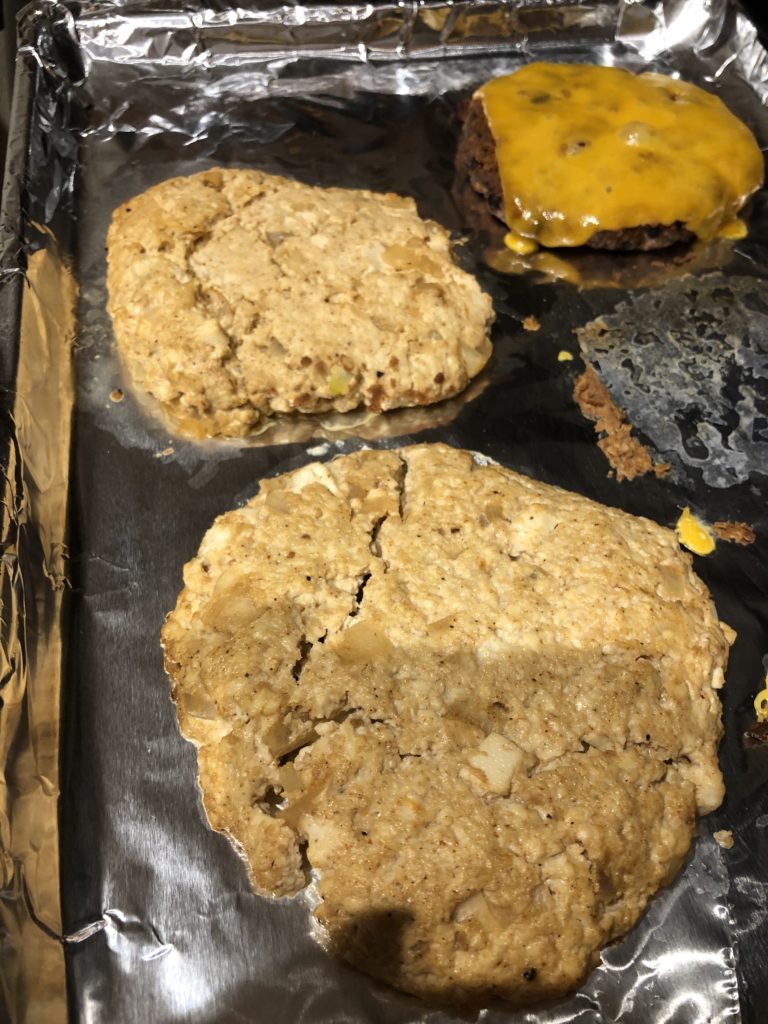 As we can see, these didn't work out so well. There was still WAY too much moisture in these patties so they wouldn't hold together at all. These definitely needed breadcrumbs or something else to dry them out a bit. They still tasted really good though and both Luke and I agreed that, because they kinda fell apart like scrambled eggs, this recipe would be good as a tofu scramble or for vegetarian tacos.
For an upcoming #MeatlessMonday, I really want to try jackfruit carnitas. It should be interesting.
Thanks for reading and let me know if you have any awesome meatless meals we should try or if you've tried these or any from my last post!