Last night was yet another night that Luke and I sat around thinking "what can we eat for dinner?" The answer, as it turned out, was not a lot. We had a plantain sitting around because we decided, the last time we went grocery shopping, that we wanted to try to fry plantains, as well as frozen pork chops and raw carrots. Those all turned into our dinner.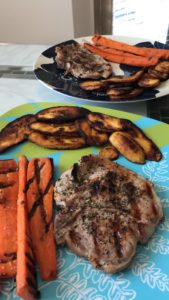 When we cook together, I am usually on anything-but-meat duty because I am just not a fan of cooking meat. It feels weird to the touch, I don't ever know when it's done, and I was a vegetarian for a few years some time ago, so it still gets to me sometimes. This meant it was my job to fry the plantains. I mostly used a recipe for this as I had never fried plantains before and the recipe basically said to slice and deep fry it. Easy enough, but I did not want to use the oil to deep fry them because I felt it would be a waste and we're still trying to diet (even though we had Culver's for dinner tonight). Pan frying them mostly worked, but, as you can probably guess from the title of this blog post and the photo accompanying it, they got a little burnt. The pork chops and carrots came out alright though the pork was overcooked and we both agreed that next time, a little brown sugar on the carrots and plantains would probably do them some good.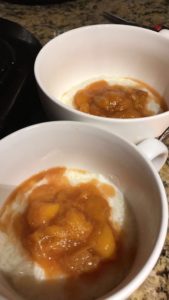 Usually this is where my escapades stop. We eat, sit around for a bit, and then will eat dessert later- ice cream or some fruit depending on how we're feeling. I started eating peanut butter on saltines (do I still sound like a broke college student?) when I suddenly wanted to make rice pudding. I'd never made rice pudding before but I knew it took milk and rice, two things we had. Luke told me to go for it so I looked up recipes and I found an easy one that didn't take too much work, put the stuff in the pot and let it cook. Lazy foodie for the win! I also decided to make a bit of a peach compote to go with it since we had some peaches in the fridge that were getting a bit soft. The whole dessert turned out really well and we ate the leftovers for a snack this afternoon. The process of getting to the wonderfully delicious pudding you see on the left however, was more of a mess than I wanted. The milk boiled over and since we have a glass flat-top stove, it ended up burning onto it and the kitchen smelled like burnt marshmallows for about ten minutes. It still isn't totally clean and I still hate myself.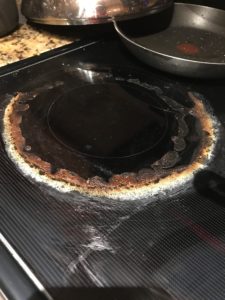 Neither of us were happy but the pudding helped.