Since I never did an October review and my November Glam Bag is here, we're mushing the posts together. Hopefully that means the reviews will be short and concise. There will also be less pictures.
October
As always, I received five beauty items and a make-up bag in the shiny, pink bubble wrap packaging. The bag is red with lace detail and a black bat zipper pull. It is "mysterious" for this October, different than last where the bag was a light pink, patterned with cats and witches, and was a bit more fun.
HANALEI Papaya Enzyme Powder Cleanser
I liked this cleanser. It came in little packets of powder that you mix with water in order to form a paste that you scrub in. It felt good, smelled good, and didn't leave my face dry. I still applied moisturizer after my face was dry anyways, as you always should, but it was less necessary than I have found with other powder cleansers like the Biore Baking Soda Powder Cleanser (which I received free from PINCHME; we'll talk about that in a future post).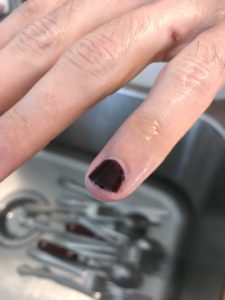 PRETTY WOMAN Nail Polish in Wine With Ice, Garcon
I'm a pretty big fan of nail polish. Like lipstick, though many may be very similar in shade, there is always a different formula and difference in the shade that makes me want to have all of them. This is also one of my favorite colors though. Deep burgundy is a color I like to wear in my shirts, dresses, hair, and apparently nails. The consistency of the polish itself is pretty nice too. It goes on well but you might need two coats to really get the deep color you want. I had to do two coats on Luke's pinky finger to get this color.
Urban Decay 24/7 Glide-On Eye Pencil in Perversion
This is an eye pencil that I have wanted to try since I was 12 and only used black eyeliner on my lower waterline without any other make-up. It stays pretty long (I can't attest to 24 hours) and it also glides on fairly easily. It doesn't pull and, though I don't usually use pencils for winged eyeliner, I tried with this one day and it went on really well and stayed. It is also very black, something that I love, because when I want black pigment I expect black pigment. It's not charcoal or grey, it is black.
TARTE deluxe lights, camera, lashes 4-in-1 mascara
I do not endorse every mascara that ipsy sends me. There have been a few that I have not been very impressed with at all. That said, I'm a big fan of this mascara and usually wear it without primer, something I would never tell anyone to do. It adds length, volume, and curls. Conditioning is the last of the "4" they talk about, but from my experience and knowledge, primer is what conditions your lashes (the reason I would never tell you not to wear primer).
MDMflow Liquid Matte Lipstick in Retro
The formula of this liquid lipstick was much like any other. It went on pretty smoothly but the color was absolutely horrible on my lips. It was much too pink and orange at the same time and I think the matte finish just didn't suit this at all.
November
THE WHITE COMPANY White Lavender Body Lotion
Lavender is such a wonderful scent. It's relaxing and helps you sleep which is why they put it in so many bath salts. This lotion smells wonderful and, since it's a full body lotion, not just a hand lotion, it's pretty thick. This means that I didn't have to use a lot to cover my hands which now feel very soft, something difficult to keep up in these colder months.
NOMAD COSMETICS Multi-Perfection Duo Brow Powder in Brunetta Brillante
Brow powders are interesting. I like pomades and pencils better because I feel like they show better and are easier to use. That said, the powders aren't bad, they're just not as good. That said, this brow powder isn't quite as dark as I want it to be. They say that you're supposed to use a brow color two shades lighter than your hair color. My hair is black. This brow powder is a bit lighter than two shades lighter than black.
IT COSMETICS Your Skin But Better CC+ Cream with SPF 50+ in Medium
BB and CC creams are pretty great. They're super easy to use when you're not someone who wants to do a full face or you don't have time. IT Cosmetics is a pretty good brand too. ipsy has sent me a few of their other face and eye products before and I've been pretty happy with all of them. As far as this CC cream goes, it holds up to the Mary Kay one I used to use. It gives about as much coverage as CC creams do and it doesn't feel heavy. The main issue I have with this is that it's just a little light for me. I didn't notice until I used it at work the other morning when I was getting ready in the store (one of the most fun parts of working the morning shift) and I just looked so washed out.
COLOURPOP COSMETICS Ultra Satin Lip in Baracuda
I love the color of this lippie. One of my friends recently bought some ColourPop lippies and said she liked them, so I was excited to try this one. I was also pretty excited that it was a satin finish, not a matte, because my lips have been super dry with the change in the weather lately so I wanted something less drying. It was pretty matte though, and pretty drying. I'm still on the market for a less drying matte lippie. I will report back when I find one.
SKYN ICELAND Berry Lip Fix with Wintered Red Algae
I love lip balms. Luke can tell you, I have too many of them and I am constantly applying them. I especially love lip balms that make my lips tingle and it was a surprise but this one does. I was a bit concerned about the berry scent. I'm usually not a fan of berry scented anything because it can get too sweet but this one isn't bad. It is also just a scent, not a flavor, so depending on how you look at it, that's a good or bad thing. I think it's good because then the flavor doesn't transfer the way my Sun Bum lip balm does. Onto the actual quality, I've had it on for about half an hour now and my lips have changed drastically. I woke up with extremely dry lips (I'm kind of sick) and they are already so much softer and plumper than they were. I applied it again because I'm kind of a crazy person, but I'm a big fan. Now I wish I'd gotten a full size instead of a sample.