Life has been weird again and I don't know how ready I am to talk about it all, so I'm going to talk about last weekend instead.
______________________________________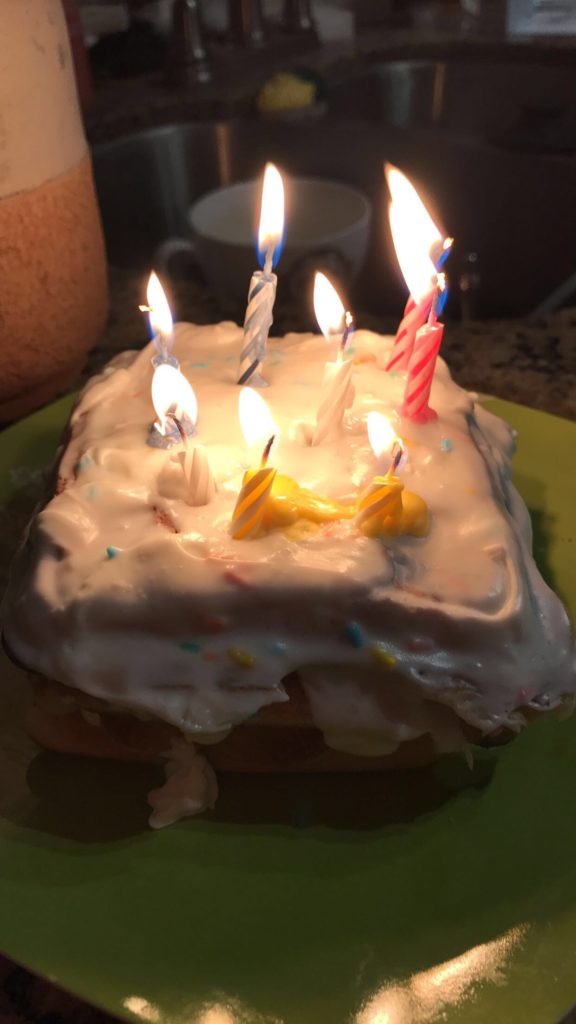 Friday, September 22, 2017 was Luke's 23rd birthday. Thankfully, Ulta did not have me working that night so when I got home from my temp job, I was able to make dinner and a cake for him. You're probably looking at this cake and wondering what in the heck happened to it. 1) The candles melted more than anticipated because he took longer than expected to blow them out, 2) it's not a normal cake!
Luke isn't a huge fan of cake. He likes brownies, cookies, pie, ice cream, and basically any other dessert over cake. Funfetti however, is a cake that he likes and will eat happily. Because of this, the Monday before his birthday, I went to H-E-B after I got out of the office (the only other day Ulta didn't have me), and stood in the baking aisle much longer than I thought I would, trying to pick out what to buy. The idea I had going in was to buy Funfetti cake mix, a tub of frosting- which I would choose quickly when I got there, and then go back home to relax the rest of the night. Instead, I stood there grabbing different boxes, debating how he would feel about them, and then putting them back.
Green is his favorite color so I thought green cake would be fun. It used only egg whites. I put it back.
He likes brownies better so maybe brownies. You don't typically frost brownies so that fun gets missed out on. I put it back.
He really likes cookies and they're easier to eat than cake. He would be upset with me if I made cookies without him. I put it back.
I stood there for a good 15 minutes talking to myself about what birthday treat he would like the best, just to pick out the regular Funfetti cake and white marshmallow fluff Funfetti frosting. The rest of the week I thought about how I would bake the cake. We have a few different Pyrex baking wares thanks to both of our mothers, but none of them are the fun round cake shapes. I could have made a rectangular cake in the 9×13 pan, but that didn't seem good enough and I could have just made brownies if I was going to use that.
I had the rest of the week to figure it out but eventually ended up settling for the 9×13 and a whole lot of frosting. That is, however, until I saw a video on Facebook.
This video was from Tasty? Tastemade? Delish? One of the food accounts. They put cake batter into a waffle iron. I'd seen this before but never had the inspiration to do it before this. Luke LOVES waffles. So that is what is pictured above, a Funfetti waffle cake with white marshmallow fluff Funfetti frosting and almost totally melted candles. It came out really well and then we had leftover cake waffles for a few days because there was much more batter than just for four waffles.
He was surprised by the idea and was thankful, yet again, that I was the spontaneous (read: actually meticulous planner) and cute one because he just hasn't learned how to be that yet.
For dinner, before we ate the waffle cake, we had boneless beef ribs that I tried to cook like steak- sear then bake- and came out almost perfectly but that I thought I'd messed up royally, rice, and broccoli.
The next night we went to Red Lobster and I got them to bring Luke a birthday sundae and sing to him. Then after that we walked around a mall before going to the 10pm IMAX screening of Kingsman: The Golden Circle, getting interrupted and evacuated from the theater about 15 minutes before the movie was supposed to start for the fire alarm, and eventually getting home around 1 am. The movie wasn't super, but it was about as much fun as the first one with a few scenes that I could have very much done without.
The next morning I worked and we hung out around the house. It was a good weekend. I was content.